Past Lives : A collaborative film and live music performance

Capturing moving images is now commonplace with mobile phones and pocket cameras but before the digital age it wasn't so easy. Small format movie cameras were the liberating technology of the mid 20th century giving ordinary people the chance to capture everyday events on their 8mm and 16mm cameras.
Cipher (Theo Travis and Dave Sturt) have collaborated with visual artist Anthony Hatton to produce a thought-provoking and engaging visual and live musical experience using previously unseen archive footage from the Media Archive for Central England, including local images of the Midlands from the 1930s to the 1970s and with music composed by Cipher.
The new live soundtrack features Cipher - Travis on sax, flute and keys and Sturt on fretless and upright bass and sound design and combines acoustic and electric instruments with digital looping technology and computer sound processing. The musicians in Cipher have previously collaborated with Gong, Robert Fripp, Bill Nelson and David Sylvian. The score also features acclaimed string players - Deirdre Benscik (cello) and Clare Bhabra (violin) both from the Midlands based orchestra Sinfonia Viva. This will be the first time Cipher have augmented their sound with strings.
The Past Lives project will be touring the Midlands from March to July 2012 -see below for details. There will also be a series of workshops before some of the performances to enable participants to learn about writing and performing music with film. In addition some performances will also have a post show Question and Answer session.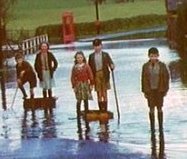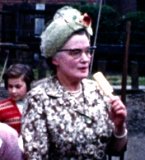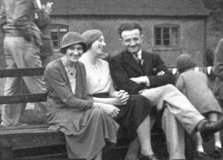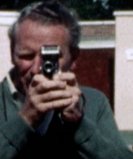 The 2012 tour dates are as follows -
8 March Lincoln - Performing Arts Centre, University of Lincoln, Brayford Pool, Lincoln LN6 7TS (0844 888 4414)
lpac.co.uk
Also workshop and post gig Q & A.
9 March Sleaford - The National Centre for Craft & Design. Carre Street. Lincolnshire NG34 7TW. (01529 308710)
nationalcraftanddesign.org.uk
27 March Spalding - South Holland Centre, Market Place, Lincolnshire, PE11 1SS (01775 764777)
southhollandcentre.co.uk
+ Workshop
25 May Holymoorside Village Hall, Holymoor Road, Holymoorside, Chesterfield S42 7DX (01246 567118 / 01246 861997).
holymoorsidearts.co.uk
+ Workshop
27 May Nottingham - Broadway, 14 - 18 Broad Street, Nottingham, England NG1 3AL (0115 9526 611) + Workshop
30 May Solihull - Arts Complex, Homer Rd, West Midlands B91 3RG (0121 704 6962)
solihull.gov.uk
3 June - 7 June - Nottingham Contemporary, Weekday Cross, Nottingham, NG1 2GB,
nottinghamcontemporary.org
- Installation with recorded soundtrack
24 June Belper - The Ritz, 76b King Street, Derbyshire DE56 1QA (01773 822224)
ritz-belper.co.uk
+ Workshop and post gig Q&A
27 June (tbc) Warwick - Arts Centre University of Warwick, Coventry, CV4 7AL (024 7652 4524)
warwickartscentre.co.uk
29 June West Bromwich - The Public, New Street, West Midlands, B70 7PG (0121 533 7161)
thepublic.com
3 June - 7 June - Nottingham Contemporary, Weekday Cross, Nottingham, NG1 2GB,
nottinghamcontemporary.org
- Installation with recorded soundtrack
7 July Derby - The Quad, Market Place, Cathedral Quarter, Derby DE1 3AS (01332 290606)
derbyquad.co.uk
8 July Cromford - Gothic Warehouse, The Arkwright Society, Cromford Mills, Mill Lane, DE4 3RQ (01629 823256)
arkwrightsociety.org.uk
+ Workshop
19 July Stamford Arts Centre - 27 St. Marys Street, Stamford, PE9 2DL (01780 763 203)
stamfordartscentre.com
15th September - New Mills Festival, New Mills Town Hall, 7.00, Town Hall Spring Bank, High Peak SK22 4AT Derbyshire, 01663 743434
newmillsfestival.com
Cipher gratefully acknowledges the financial assistance from the Arts Council East Midlands
Interview with Dave Sturt for BBC Radio Lincs.
audience reviews
"I spent half of it in tears, the other half smiling. Beautiful, achingly poignant. Thank you so very much."
"The film and music worked very well together"
"I have been working with archive films for nearly 35 years, at the BFI and here at MACE, and I think that was the most moving presentation I've ever seen"
"Because I am 76 I identified with all aspects of the film - it took me back to my boyhood days"
"Was lovely. Music worked so well with the film. Such nice footage."
"Well done. Very moving and lovely."
"Fantastic event, very, very moving - a wonderful evening"
"Brilliant"
"Just a great performance and wonderfully edited film"
"Unusual and moving event"
"Past Lives last night was amazing, some stunning archive and a beautiful and often playful score. Go see it! "
Review of Past Lives - LPAC Lincoln Performing Arts Centre Thursday 8th March
".each luminous frame opened a successive drawer in an archive of memories..." Richard Fung
Dave Sturt's homage to home movies 'Past Lives', based on a collection of home movies from the MACE film archive and set to a live music score, has a starring cast of very ordinary people. These are the movie makers themselves who have visually captured and preserved our collective past.
Visual artist Anthony Hatton has captured the dreamy quality of the images, sometimes saturated with colour, sometimes spotted with age and cracked emulsion - but always vibrant and nostalgic, to evoke a time when holidays were taken in Britain by the seaside, tea was drunk from cups and saucers and little boys wore short trousers and knitted tops.
The performance takes us on a journey from 1930s to the 1970s covering aspects of rural life from village carnivals and fancy dress pageants in Derbyshire and Lincolnshire to rare scenes of hop picker's lives in Herefordshire to beautifully idyllic childhood scenes from the much prized Bradley film collection.
Musicians Dave Sturt (fretless bass) Theo Travis (flute, sax), Deirdre Benscik (cello) and Clare Bhabra (violin) elevated the film to a thought-provoking poetical level with their beautiful sounds.
Media Archive for Central England MACE were fundamental to this whole project coming together. They are doing a fantastic job of preserving our cultural heritage. There are 40,000 titles in their archive and many clips are viewable online.
Derby Quad Quad have also been extremely helpful by offering support for the project and facilities for film editing. Quad has become a hub for the arts in Derbyshire - and they also host the BFI Mediatheque.
Arts Council England The ACE East Midlands office provided essential advice and assistance - and a substantial amount of funding - to make Past Lives a reality.
Derbyshire County Council DCC arts office provided funding and guidance
PBQ Network PBQ have helped on several Cipher tours with advice and information on venues in the Midlands.
PROMOTERS
- 300 dpi photographs